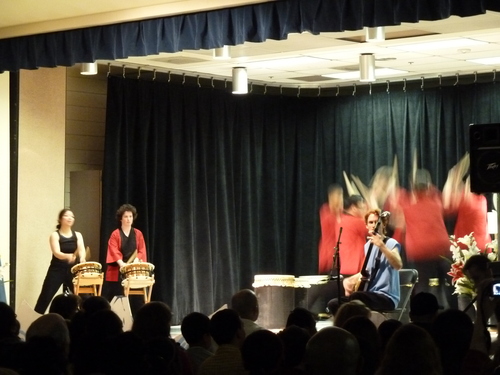 先週末は日本だけでなく、世界中で被災地支援のイベントがあったと聞く。もちろんアラスカでもアンカレジ(10日:左の写真:アラスカ太鼓&マイク・ペニー)やフェアバンクス(11日)でイベントが開催された。
世界中の日本人や日本の文化を好きな人たちが、被災地に向けて支援の声を届けようとしている。
アラスカにいる私の役目は、剣道を含む日本の文化をアラスカの人たちに知ってもらうための機会を少しでも多く作り、海外から日本とその文化を支えて行くための力になることでは無いかと思っている。
アラスカからなので大変微力なのだが、地理的にアラスカは一番日本に近いアメリカであるから、少しでも声が届くように祈りながら、まずは稽古に参加して、大きな気合いをかけて自分と周囲を元気づけて行くことを実践しようと思う次第である。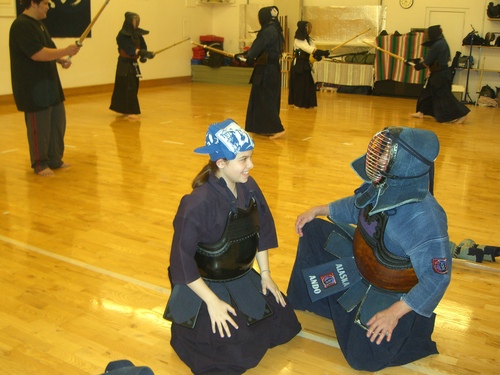 It is frustrating when your budo friends and rivals move up in rank or win taikais while you are trying to recover from an injury. But this actually is the best time to re-evaluate your Kendo.
When you cannot physically practice, you can only read books, watch videos (of yourself, your sensei and high level taikai) and watch other people's practice (mitori geiko). Because you tend not to watch your movement much when you are physically active, this is the best time for you to carefully examine your movement and realize what need to improve.
Being remotely in Alaska is somewhat similar to this situation. The difference is that the injury does not usually last for a long time. This is like having a permanent injury with short time periods of recoveries.
Being in Alaska seems like a disadvantage to practice Kendo: No competitive atmosphere, no seminars, takais or special events.
However, it gives a few advantages that centrally located Kendoka may not get.
First of all, being remote could give a chance to concentrate on gaining knowledge by yourself rather than expecting someone to give you one.
Since you need to find an answer by yourself, you must think a lot and be creative. It forces you to think all the time and come up with an answer by yourself on everything.
Other martial arts books as well as other human mind/body related books and videos also help give hints for new ideas. In fact you may soon start seeking for a hint in everything you read, see, hear and experience. You will be always hungry for those.
Being remote also helps actually experiment those new ideas that may not be allowed to try in Japan.
What I like about being remote is that I have a chance to try things whenever I want. After trying them out and find some success, I try them with the senior Kendoka in when I practice in Japan a few times a year.
My kind sempais then evaluate --often with criticisms-- my kendo including the new things I tried.
These criticisms are often discouraging, but make me think further and deeper as well.
One develops his/her own value system when he/she gets older, and tends to stick with the value system only. But the danger of doing that is that you may lose the ability to be a flexible thinker.
Trying to view things from different angles is very important for one to constantly make progress. A simple question or action by a beginner often reminds me to be flexible because they often see things different from what I can look at. The old Japanese saying "(Return to) A beginners mind" must mean this.
Budo is profound. It gives us opportunities to cultivate a strong mind and body. It leads us to have a richer human life. It actually can improve one's daily life by learning the effective and economical body movement, the human mind, the human body structure, the basic human behavior and the human history.
I believe that Bodo is one of the best means to be a better human being for everyone.
Even when you cannot attend keiko (practice), keep studying and keep thinking positive. It will give you more opportunity to get better when you get back to the dojo.